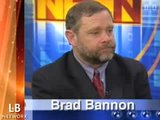 Other Radio Appearances...
In addition to being a featured guest on the Santos Show, Brad also has his own radio show, the Brad Bannon Show which appears on AM 1510 Revolution Boston every Sunday at 11 AM. Furthermore, Brad is a frequent guest on the nationally syndicated Leslie Marshall Talk Radio Show

Clips of the Brad Bannon Show

Clips of Brad on the Leslie Marshall Talk Radio Show

BCR's Video Page:
Right now we have clips of CN8's Emmy Award winning It's Your Call with Lynn Doyle featuring their resident progressive political expert, BCR's Brad Bannon. In addition, we have clips of Brad on the Legal Broadcast Network discussing the latest news...

Click here for more info